About Seymour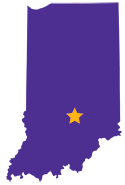 The City of Seymour is located one hour south of Indianapolis, one hour north of Louisville and one and one-half hours west of Cincinnati. Seymour, Jackson County, Indiana is the place to live your future! Seymour has a population of approximately 20,000 residents and is served by Mayor Matthew Nicholson, Clerk-Treasurer Darrin Boas and seven Councilmembers.
Seymour is a thriving industrial, commercial, and residential community based on well-planned growth and progress. The quality of life is demonstrated by Seymour's "small town" yet bustling atmosphere, beautiful parks and open spaces, attractive landscaping and arterial streets, a low crime rate, quality schools and affordable housing. Because of the geographic location, a pro-business environment, and a proactive local government — Seymour is expected to continue to grow.
Mayor to begin monthly Curbside Chats
Have you ever wanted to sit down and talk with the mayor one-on-one?
Do you have a question about recycling, trash collection, road conditions or public safety?
Maybe you have an idea for the parks department?
Once a month, Mayor Matt Nicholson and different department heads will take time to meet with the public in what Nicholson has coined Curbside Chats.
The gatherings will take place at local parks with the purpose of fostering conversations, sparking ideas, and getting to know each other better.Nicholson and Chad Dixon, director of Seymour Department of Public Works, will kick the chats off at 6 p.m. April 28 at Burkhart Plaza (next to the Jackson County Chamber of Commerce building). At 6 p.m. on May 24 at the Shields Park shelter house, Nicholson will be joined by Jeremy Gray, city building commissioner.
The rest of the schedule will be:
June 13 - 11:30 am, at the Mellencamp Mural – Nicholson and Jarin Gladstein, director of Seymour Water Pollution Control
July 12 - 6:00 pm, at the Gaiser Park shelter house – Nicholson and Seymour Police Chief Bryant Lucas
August 18 - 7:00 am, at Crossroads Park – Nicholson and Seymour Fire Chief Brad Lucas
September 14 - 6:00 pm, at Westside Park – Nicholson and Stacy Findley, director of Seymour Parks and Recreation.
If you have any questions, please contact January Rutherford, public information specialist, at 812-216-5644 or email jrutherford@seymourin.org.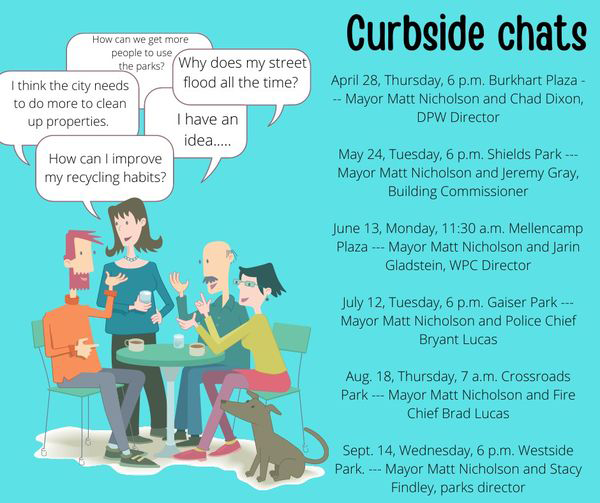 ---
City accepting applications for pandemic-related funding
Deadline to apply is September 1, 2022.
The City of Seymour is now accepting applications for funding from the American Rescue Plan Act (ARPA) of 2021 fund.
Last year, the city was allocated $4.2 million in federal aid to address the local impact of the COVID-19 pandemic.
Financial requests must be based on the period from Jan. 1, 2020 – March 3, 2021 and must fit into one of the following four criteria as approved by the Seymour Common Council in April 2021.
To respond to the public health emergency with respect to COVID-19 or its negative economic impacts, including assistance to households, small businesses and nonprofits or aid impacted industries such as tourism, travel and hospitality.
To respond to workers performing essential work during the COVID-19 public health emergency by providing premium pay to eligible workers of the metropolitan city, nonentitlement unit of local government, or county that are performing such essential work or by providing grants to eligible employers that have eligible workers or who perform essential work.
For the provision of government services to the extent of the reduction in revenue of such metropolitan city, nonentitlement unit of local government or county due to the COVID-19 public health emergency relative to revenues collected in the most recent full fiscal year of the metropolitan city, nonentitlement unit of local government or county prior to the emergency or
Make necessary investments in water, sewer or broadband infrastructure.
Those individuals or entities applying must provide required financial documents from 2019, 2020, and 2021. Deadline to apply for funds is Sept. 1, 2022. Requests must include the date of the request, who is requesting the funds, the amount requested and a description of why the funds are being requested and what they will be used for.
Applications must be approved by the council finance committee followed by a public hearing during a common council meeting. Council must then introduce and approve an ordinance authorizing the distribution of funds. Ordinances take two readings.
Requests can be emailed to the Mayor's Office at mayor@seymourin.org or dropped off or mailed to Mayor's Office - Seymour City Hall, 301-309 N. Chestnut. St., Seymour IN 47274.
Anyone with questions about the request process can contact the Mayor's Office at 812-523-5880 or email mayor@seymourin.org.
Click here to download the guidelines and the application
---