Planning & Zoning
Introducing the New City of Seymour Curb Appeal Program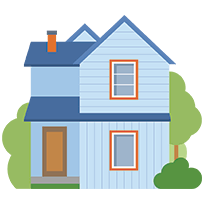 The City of Seymour Planning and Zoning Department would like to invite you to review their new Curb Appeal Program. The Curb Appeal Program is an assistance program for property owners to improve the appearance and quality of their property and enhance neighborhood aesthetic appeal.
Curb Appeal Program Objectives
To assist in overall Seymour revitalization and improve its appearance and image.
To help raise and improve the value of housing within Seymour city limits.
To help provide property owners with resources to make improvements to the exterior of their homes and their property.
To help leverage larger improvement projects and investment that may not otherwise take place.
To create a positive influence on surrounding properties and encourage further investment by neighboring and nearby property owners.
Click here for more information on the Curb Appeal Program
---
Department of Planning & Zoning Duties and Responsibilities:
Issues building permits for all construction work taking place within the city limits and the two mile jurisdictional area surrounding the city.
Inspects all construction work to assure compliance with all state codes.
Enforces flood plain management regulations as required by FEMA and DNR.
Assigns 911 addresses for all properties being developed within city limits and two mile jurisdictional area.
Processes all applications for plats, rezoning, land use variances, and technical variances being filed for review and approval by Seymour Plan Commission and Board of Zoning Appeals.
Enforces city zoning ordinances and developmental standards for properties within the city limits and the two mile jurisdictional area.
Enforces city property maintenance code for all properties within the incorporated limits of the city.
ADA Coordinator.
Utility Impact Board Advisor.
Plan Commission
The Plan Commission reviews petitions in the following categories:
Replat Petitions, 1 Rezone Petitions, and 2 Vacate Petitions, 2 Development Plans and 1 Foundation Petition. The Plan Commission also reviewed 1 Land Use Variance Petitions and gave either favorable or unfavorable recommendation to the Board of Zoning Appeals.
Plat Committee
Plat Committee is comprised of city staff and hears and decides on all property re-plat applications.
Board of Zoning Appeals
The Board of Zoning Appeals (BZA) hears and decides on all property variance applications. These positions are appointed by the Mayor and County authorities.
Inspections
Inspections are performed by the City Building Inspector Dave Neukam and includes all construction projects, i.e. electrical, plumbing, heating, HVAC, etc.
Electrician's License
If you are an electrician and want to work on a job site in Seymour, IN, you must hold a current license registered at City of Seymour- Department of Planning and Zoning.The City of Seymour holds electrician's license for 300 individuals in the city limits and a two-mile fringe.
All Electrical License Renewals are due by January 31st of each year and good for one year. Electrical License Renewals are $15.00. A new license is $25.00. Checks are made payable to the City of Seymour.
Office Contacts
Jeremy Gray - Building Commissioner - 812-523-5882
jgray@seymourin.org
Dave Neukam - Building Inspector - 812-523-5899
dneukam@seymourin.org
Kelly Pifer - Ordinance Administrator - 812-523-5894
kpifer@seymourin.org
Patty Tormoehlen - Administrative Assistant - 812-522-4746
ptormoehlen@seymourin.org