About Seymour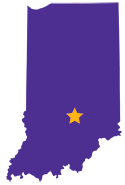 The City of Seymour is located one hour south of Indianapolis, one hour north of Louisville and one and one-half hours west of Cincinnati. Seymour, Jackson County, Indiana is the place to live your future! Seymour has a population of approximately 20,000 residents and is served by Mayor Matthew Nicholson, Clerk-Treasurer Darrin Boas and seven Councilmembers.
Seymour is a thriving industrial, commercial, and residential community based on well-planned growth and progress. The quality of life is demonstrated by Seymour's "small town" yet bustling atmosphere, beautiful parks and open spaces, attractive landscaping and arterial streets, a low crime rate, quality schools and affordable housing. Because of the geographic location, a pro-business environment, and a proactive local government — Seymour is expected to continue to grow.
Seymour Hires Two to Lead Recovery Program
Positions funded by state FSSA grant through 2023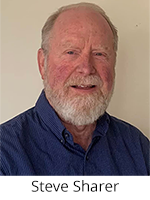 Seymour has hired two local residents to build and lead a new substance use recovery program to serve the city and all of Jackson County.
Steve Sharer of Seymour will be the program coordinator and Kimberly Glaze of Freetown will be the director of program development for the initiative. Both are part-time positions.
The main goals of the new program will be to identify and fill gaps when it comes to substance use prevention, treatment, and recovery services in Jackson County.
Sharer has a background in civil engineering and social work. He has spent most of his career working as a project manager and consultant in the construction field, but also spent years working in counseling for the Tabor Center and Immanuel Lutheran Church.
"I am excited to be a part of this program and look forward to helping people in our community better access recovery resources as the program develops and evolves," Sharer said. "We hope to engage the whole community in this effort."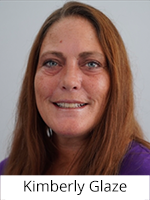 Glaze has degrees in criminal justice and criminology and has experience in the substance abuse recovery field, having worked as a regional coordinator for United Against Opioids through AmeriCorps, as a recovery coach for Centerstone and a prevention and outreach coordinator for Foundations Family Medicine in Austin.
"When I first heard of this opportunity, I was thrilled that Seymour and Jackson County were going to finally have a program that is dedicated to helping with this issue," Glaze said. "It is my hope that this program can accomplish bringing all the treatment, intervention and recovery resources together. No more silos and no more waiting. When someone needs help, they will find it here."
The Seymour & Jackson County Recovery Program is being modeled after the Alliance for Substance Abuse Progress (ASAP) in Bartholomew County and is being funded through a $100,000 grant from the Family and Social Services Administration of Indiana. ASAP is serving as a resource and consultant to help get a program started here.
Mayor Matt Nicholson said he is looking forward to the impact Sharer and Glaze will make.
"I am excited to see them get started and see how they can affect the future of our community in positive ways," he said.
Sharer and Glaze have offices in Seymour City Hall. They can be reached by calling 812-522-4020 or by email at ssharer@seymourin.org and kglaze@seymourin.org.
Media contact: January Rutherford, public information specialist, City of Seymour
Phone: 812-216-5644 Email: jrutherford@seymourin.org
---
Help put Seymour and Jackson County on the Big Screen
State database collecting information on potential sites for film projects
When Hollywood comes knocking, Seymour will be ready for its closeup.
Roamin' Soldier Productions, Seymour Main Street and the City of Seymour are working together to put Seymour on the industry radar as an option for film and television projects.
Local property owners interested in having their properties used as filming locations are encouraged to submit their information and photos to the Indiana Film Commission at www.filmindiana.com/locations.
"We need members of the community to submit locations that they own and might be willing to allow to be used for possible upcoming projects," Mayor Matt Nicholson said.
There are currently more than 500 sites listed on the statewide database including scenic landscapes, industrial cities, and rural countrysides. Locations are grouped into such categories as farms/barns, mansions, small towns, sports and theaters.
Bri Roll, executive director of Seymour Main Street said having Seymour and Jackson County sites listed in the database is a great opportunity to showcase the community and attract a new industry to the area.
"Seymour has a wide variety of landscapes to choose from," Roll said. "Downtown is full of historic architecture and beautifully renovated public spaces, complete with smalltown hospitality and a shop small mindset."
Brian Snow, founder of Roamin' Soldier Productions, is based in Seymour and has filmed a short film/tv pilot here called "In Justice Indiana." Click here to view the official trailer for the project. The project is expected to premiere this summer.
"I think we really got something here," Snow said of the project. "We really hope this particular episode leads to a full budget series being filmed right here in Jackson County."
Snow encourages local businesses and property owners to list their locations on the state database to make it easy for production companies to find them.
"I have already begun establishing myself on their site for locations as well as production assistance," he said.
Media contact: January Rutherford, public information specialist, City of Seymour
Phone: 812-216-5644 Email: jrutherford@seymourin.org
---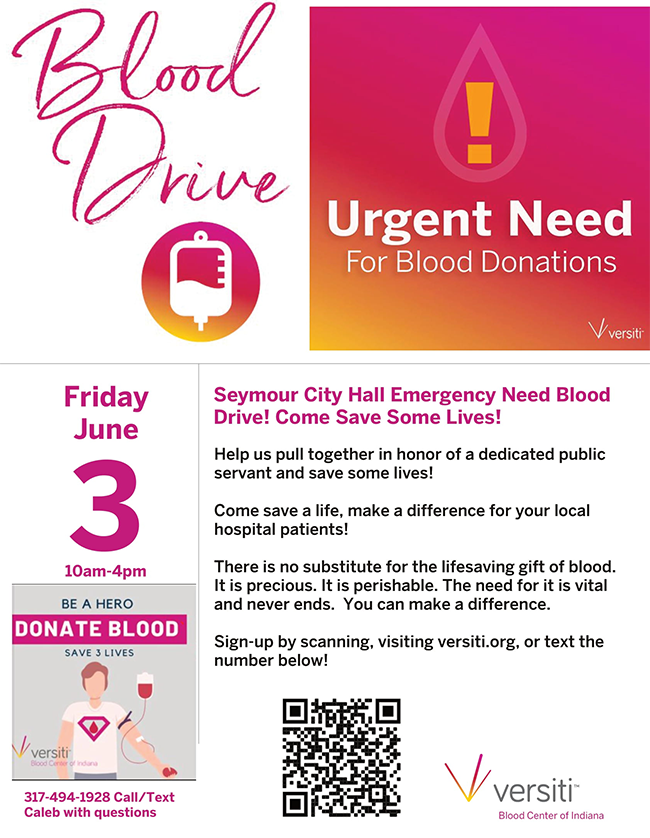 ---
Mayor Seeking Students for Youth Council
Local high school students are needed to join the Mayor's Youth Council for 2022-23.
Applications due by May 30; all high school-aged students in Seymour eligible
Applications now are available to incoming 9th- 12th graders at Seymour High School, Trinity Lutheran High School, and Sandy Creek Christian Academy. Home-schooled students also are eligible to apply.
Interested students can request an application by emailing mayor@seymourin.org or can follow the link https://forms.gle/yT38r8CVfpmGnXEM6 to fill out a Google form. The deadline to apply is May 31.
The youth council operates as an advisory board to the mayor on issues affecting youth in the community.
Applicants need to be able to commit to attending most, if not all youth council meetings, from September through April.
Council members will take part in city meetings, tour city facilities, hear from guest speakers and participate in other leadership activities.
Students will establish connections and learn how networking can help accomplish tasks and goals.
"Our city's future leaders are made by experiences and opportunities like this that encourage growth and development," Mayor Matt Nicholson said. "The youth council promotes civic commitment and community volunteerism and gives our youth a voice and an opportunity to get involved in city government."
Three students who served on the youth council in 2021-22, Paul Bontrager, Cory Robinson and Brandon Rodriguez, all students at SHS, recently were selected to serve as summer interns at Seymour City Hall.
For more questions or more information, contact Jane Hays at mayor@seymourin.org or 812-523-5880 or January Rutherford at jrutherford@seymourin.org or 812-216-5644.
Pictured Below - 2021-22 Mayor's Youth Council Members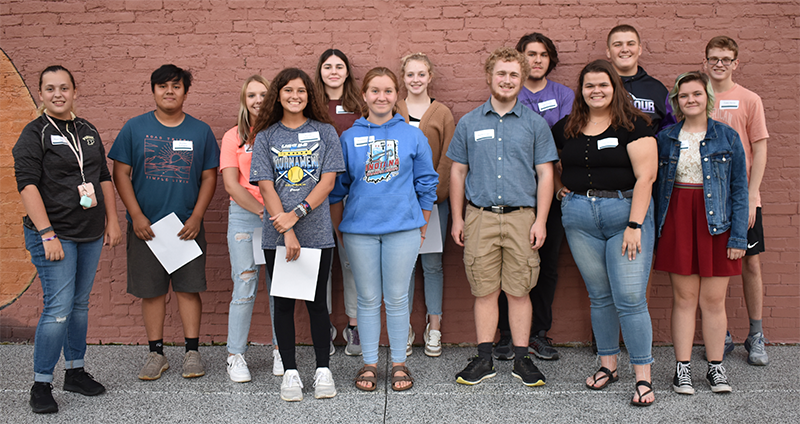 ---
Seymour Awarded more than $900,000 for Road Work
The state has awarded Seymour $928,683.22 from the Community Crossings Matching Grant Fund to repave city streets in 2023. That money will be matched by the city for an investment of more than $1.8 million to improve existing road infrastructure.
City officials learned of the news Tuesday morning. In the past three years, Seymour has received nearly $3 million from the CCMG fund.
Mayor Matt Nicholson thanked city engineer Bernie Hauersperger, Seymour Department of Public Works Director Chad Dixon and DPW administrative assistant Michelle Gossett for their work in completing the CCMG applications each year.
He also said the funding would not be possible without matching financial support from the Seymour Redevelopment Commission.
The following streets will be included in the 2023 overlay schedule:
Vine Street from South Avenue to Tipton Street (U.S. 50).
Airport Road from Second Street to the end of the road.
Hackberry Drive from Locust Drive to U.S. 50
Locust Court West from Locust Drive to the cul-de-sac.
Locust Drive from 220 feet south of Locust Court West to North Locust Drive
Locust Court Center from Locust Drive to the cul-de-sac.
Locust Court East from Locust Drive to the cul-de-sac.
Locust Drive North from Schleter Road to U.S. 50.
D Avenue from First Avenue to C Avenue
Johnson Street from Fifth Street to 160 feet south of Fourth Street
O'Brien Street from 600 feet south of Burkart Boulevard to 900 feet north of Burkart Boulevard.
The only project that was not approved to receive funding from this round of CCMG grants was Burkart Boulevard from State Road 11 to 16th Street.
In a letter from Indiana Department of Transportation, Governor Eric Holcomb and INDOT Commissioner Michael Smith said the CCMG funds will enable Seymour to help build and improve Indiana's infrastructure.
"The state of Indiana looks forward to partnering with all Hoosier communities, both urban and rural, to invest in road and bridge infrastructure projects," the letter stated. "Improvement to local roads and bridges will bring about economic development, create jobs and strengthen local transportation networks for all of Indiana."
---