About Seymour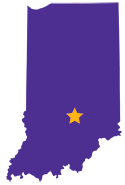 The City of Seymour is located one hour south of Indianapolis, one hour north of Louisville and one and one-half hours west of Cincinnati. Seymour, Jackson County, Indiana is the place to live your future! Seymour has a population of approximately 20,000 residents and is served by Mayor Matthew Nicholson, Clerk-Treasurer Darrin Boas and seven Councilmembers.
Seymour is a thriving industrial, commercial, and residential community based on well-planned growth and progress. The quality of life is demonstrated by Seymour's "small town" yet bustling atmosphere, beautiful parks and open spaces, attractive landscaping and arterial streets, a low crime rate, quality schools and affordable housing. Because of the geographic location, a pro-business environment, and a proactive local government — Seymour is expected to continue to grow.
City to Celebrate Opening of New Bypass
Seymour - To celebrate the opening of its newest roadway, the City of Seymour is inviting the community to come out for a car-free street event.
From noon-3 p.m. Sunday, Oct. 31, the public is invited to experience the first phase of the Burkart Boulevard south bypass by walking or riding a bicycle on the 2-mile stretch which includes the new bridge over the Louisville and Indiana railroad.
There will be candy/treats provided by Milestone Contractors, which is sponsoring the event, and city officials will be on site grilling and serving free hot dogs.
The walk/bike ride will begin at the O'Brien Street end of the bypass. Once pedestrians make it to the other end at South Fourth Street Road, they will turn around and head back for a total of about 4 miles.
Parking will be on property along County Road 340 North just off of O'Brien St. The parking area will be flagged and have signage.
If it rains, the event will be canceled.
The bypass will not be open to vehicles until Nov. 1. A ribbon-cutting is scheduled for 9 a.m. that day and the road will open afterwards.
Mayor Matt Nicholson said he wanted to create a unique way for people to connect with the project by providing an opportunity for people to make a memory on the bypass.
He got the idea from ciclovia events around the world, where streets are closed down temporarily for pedestrian use only.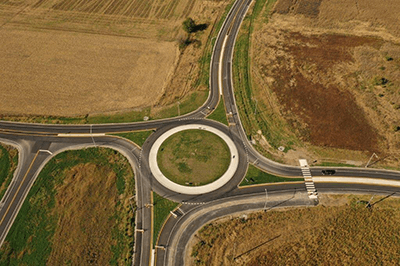 "Before it gets opened up, we would like to highlight the significant amount of materials used for this project and the work that went into it with a day to walk the area and see it up close," Nicholson said.
Even after the roadway opens to vehicles, pedestrians will have access to the new 12-foot wide people trail along the corridor, Nicholson added.
"All of this will benefit our community for many years to come," he said. "This provides a place for those seeking exercise to go and also provides safer travel for those commuters who are not in the car."
City engineer Bernie Hauersperger said major road projects are an important sign of growth but often don't get celebrated publicly.
Putting the project into perspective, he estimated 375,000 tons of new materials were used for the bypass including stone, asphalt, concrete and steel. In comparison, the Empire State Building took 365,000 tons and the Washington Monument took 100,000 tons, he said.
"If you loaded the bypass phase 1 up in a big truck and you lost 45 pounds of it per foot on the roadway, you would be able to make it coast to coast on U.S. 50 and still have some left over," he said.
The opening of Phase 1 of the bypass is a major accomplishment for the city. Funding for the $17.23 million project was secured by former Mayor Craig Luedeman and construction officially got underway in April 2020 under Nicholson's leadership.
"This is the start to the overall 4.5 mile Burkart bypass," Nicholson said. "This will allow semi traffic to get off of Highway 50 when coming from exit 50B on Interstate 65 to the Freeman Field Industrial Park."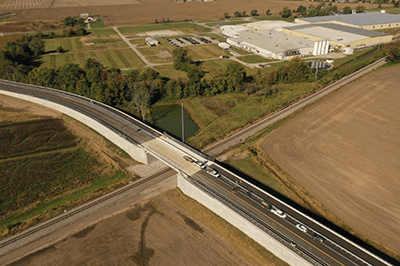 Perhaps the most important aspect of the project is it provides a way for motorists and emergency responders to get around trains going through the city. It also opens up the southern area for future development and growth.
Phase 2 of the project will connect the bypass from the roundabout on South O'Brien Street west to Airport Road. Work currently is being done to relocate utilities along the route and construction is expected to begin soon.
The third phase, which consisted of reconstruction of Airport Road where the bypass connects to West U.S. 50, was completed in the fall of 2020.
Total, all three phases of the bypass are costing the city around $30 million with 20% or around $6 million coming from the Seymour Redevelopment Commission. The bulk of the expense is being paid for through federal transportation grants through the Indiana Department of Transportation.
---
South Central Indiana Submits READI Proposal seeking $49.5 million to support $378 million in projects
A region with deep roots in collaboration has submitted a $49.5 million READI grant proposal to the State of Indiana to support $378 million in projects to stimulate housing, regional amenities, workforce training and innovation.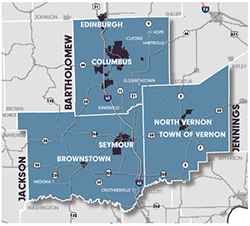 The ambitious plan was developed through a collaboration of communities, non-profit organizations and employers who are located largely in Bartholomew, Jackson and Jennings Counties. The region includes, but is not limited to, the communities of Columbus, Seymour, North Vernon and Edinburgh, which brings portions of Johnson and Shelby counties into the plan as well.
Plan organizers expect the targeted investments to lead to a growing population, enhanced educational attainment and increased job opportunities for the region's 156,000 residents.
The grant proposal describes the vision of the South Central Indiana Talent Region as being built on three principles: powerful technologies, prosperous communities and a resilient future. Inspired by the vision and guided by public input, the region's proposal calls on four strategies:
Innovation and Entrepreneurship
Education and Workforce Development
Housing and Talent Attraction
Quality of Place
The 187-page proposal offers details on 25 agreed upon projects and initiatives to be implemented in the region:
Strategy 1: Innovation and Entrepreneurship
Key projects to support Innovation and Entrepreneurship in the region include investments in a new mobility test park and proving ground at the site of the former Walesboro Airport in Columbus, a project that has been envisioned for several years, plus funding for the new Propeller Innovation Center on the AirPark Columbus campus, and expansion of the Seymour High School Owl Manufacturing program.
Strategy 2: Education and Workforce Development
Investments under this strategy will be made for the expansion of programming at the Jackson County Learning Center and construction of a new Panther Technology Education Center by the Jennings County School Corp. Another significant project will support a Campus Access and Student Success project at the AirPark Columbus campus which is the shared home of the Columbus Learning Center, Advanced Manufacturing Center of Excellence and regional sties of Indiana University Purdue University Columbus, Ivy Tech Community College and Purdue Polytechnic Institute with a combined student population of about 5,000 individuals.
Strategy 3: Housing and Talent Attraction
Projects include a 200-unit market rate complex in downtown Columbus, 123 new homes in the North Vernon Knobstone subdivision, 64 units of workforce and multi-generational housing in Jackson County, and a new 35-home development in Edinburgh. The plan also calls for other regional initiatives and housing incentive programs, including the innovative "Welcome Home Talent Attraction Program" which plans to offer a reverse scholarship to returning college graduates who move back to the region within five years of graduation, along with down payment and rent assistance to those relocating to the region for new career opportunities.
Strategy 4: Quality of Place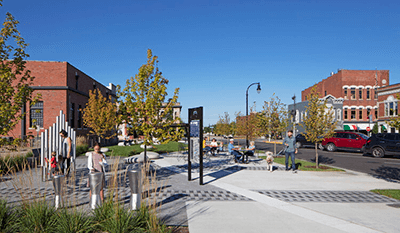 One of the largest projects to support this strategy will be the redevelopment and adaptive reuse of the mostly vacant 400,000 square foot Fair Oaks Mall into the new NexusPark – a regional health, wellness, sports and fitness facility to offer healthcare services to the region's residents while also attracting sports tourism from around the Midwest. In Jennings County, the Quarry Adventure Park will see a former stone quarry become a new public park and recreation center, and in Jackson County, an expansion of Chateau de Pique will enhance tourism at the destination winery, brewery and event center. Downtowns throughout the region will also benefit from a new Downtown Revitalization Fund, enabling projects in any of the region's communities. Additional investments will be made in the proposed Columbus Riverfront Project, a new downtown hotel and conference center, and other projects."
In developing projects to implement the strategies, a Steering Committee comprised of representatives from each of the three primary counties, including Seymour Mayor Matt Nicholson and Jim Plump, executive director of Jackson County Industrial Development Corp. selected HWC Engineering to facilitate workshops, surveys and other meetings to gather public input from residents, local governments and employers in the region.
Among the rules of the READI grant program is a requirement that all READI funds be matched on a dollar-for-dollar basis by local governments or other public sources. The State program also has a goal of attracting up to a 3:1 match of private funds. The South Central Indiana Talent Region has surpassed the State's goals by proposing projects that will garner more than a 2:1 match of local dollars and a 4:1 match of private funds, for a total match that equals $6.65 to every $1 of requested READI funds.
"The READI grant is an opportunity to create partnerships that will lead to true transformation in our individual communities and our region as a whole," Nicholson said. "This program has allowed and encouraged us to work together in a way that truly serves a larger purpose – a purpose of what is good for one of us is good for all of us. This will bring great attention to our communities and help us prosper for many, many years to come."
---
For all the details about the South Central Indiana Talent Region's 2021 Regional Development Plan Submission for the Indiana Economic Acceleration and Development Initiative (READI) Grant, visit www.southcentralreadi.com.