Clerk / Treasurer's Office
The Clerk-Treasurer's office is responsible for all the records of city government. The Clerk-Treasurer is responsible for the minutes of the City Council meetings and the Board of Public Works meetings. This office is also responsible to keep records of all ordinances, retaining charge of the city documents and books, retaining the city seal, and licensing and collecting license fees for various endeavors that are set up by ordinance by the city.
The Clerk-Treasurer's office takes care of payroll and records of city employees. They are also responsible for investing any monies that are received, and auditing, examining, and processing any invoices incurred by the different departments as they perform needed services. All financial records of the city are kept by the Clerk-Treasurer's office, and their office complies with the State Board of Accounts requirements in all their actions. The State Board of Accounts audits the financial records of the city every two years.
About the Clerk/Treasurer
Darrin Boas, Clerk-Treasurer of the City of Seymour, is currently in his first term as Clerk-Treasurer. Darrin previously had been appointed to serve as Council At Large before running for Clerk-Treasurer.
Darrin Boas was born and raised in Seymour and graduated from Seymour High School in 1987. Upon completing his B.S. degree in Accounting from the Indiana University School of Business, he spent 12 years with Kroger in store management between Indianapolis and New Castle, IN.
Darrin moved back to Seymour in 2003, and was was employed as a Branch Manager for AVI Foodsystems.
He and his wife Shawna have 2 children, son Brandon, and daughter Morgan. They are active members of St. Ambrose Church.
Darrin enjoys camping, home remodeling projects, and auto restoration.
Seymour Municipal Sanitation Utility Office/Billing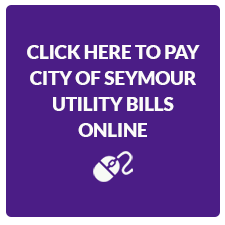 The billing office for the Seymour Municipal Sanitation Utility is also located in the office of the Clerk-Treasurer. They issue monthly bills for wastewater to all residential, commercial and industrial users. Bills are calculated one of two ways. Either from usage figures supplied by Indiana American Water or flat rates for well customers. A $7 monthly trash disposal fee is also applied to all residential customers utilizing city services. You may call (812) 522-4345 and ask for the utility office for any questions or issues pertaining to the utility billing.
Contact Information
Seymour Municipal Sanitation Utility
301-309 N. Chestnut
Seymour, Indiana 47274
Office Staff
Darrin Boas, Clerk-Treasurer
dboas@seymourin.org
Nancy Pulsford, First Deputy
npulsford@seymourin.org
Melissa Herndon, Second Deputy
mherndon@seymourin.org
Barb Barger, Utility Clerk
bbarger@seymourin.org
Denise Wischmeier, Utility Clerk
dwischmeier@seymourin.org
Danielle Kaufman, Utility Clerk
dkaufman@seymourin.org
Office Phone