Chevy and Bob Poynter GM Support Seymour Youth Sports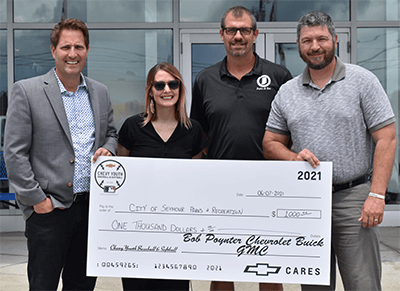 Chevy and Bob Poynter GM want to support youth sports in the community and recently made donations to Seymour Parks and Recreation.
On Monday, J.B. Hackman, president and owner of Bob Poynter GM in Seymour, presented a $1,000 check to the parks and recreation department for youth baseball and softball.
A total of $500 will be used as a field sponsorship to fund maintenance and upkeep. The other $500 will go to purchase youth league equipment.
Attending the check presentation were Hackman, Parks Director Stacy Findley, Parks Operations and Maintenance Director Chad Keithley and Mayor Matt Nicholson.
---